More Celeb Beauty Products:
Model Alek Wek is also a huge fan of Johnson's Baby, and loves the baby oil, body lotion and shampoo.
Halle Berry is famous among staff and fans of Lush. She bought 6 tubs of Dream Cream in one trip!
Another Lush fan is Jude Law, who snapped up a huge block of Sea Vegetable soap.
Paris Hilton is one of MAC's biggest fans - so much so her name is now synonymous with their 'Purr' Lipglass.
Speaking of MAC, Charlize Theron loves their pigments; loose high-colour powders for use all over.
Alicia Silverstone dabs Mario Badescu's natural-based drying lotion on blemishes to reduce redness and dry up oil.
Brittany Murphy may be making millions, but she can still spot a bargain! She keeps her lips kissable with smackers balm in Dr Pepper, which only costs a couple of dollars.
Kylie Minogue may be more famous for her bum than her face, but that doesn't stop her making the most of her mouth with Pout Lipgloss. She likes the 'Pop My Bubble' shade, a transparent bright pink.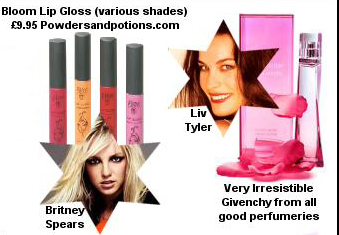 Singer Natasha Beddingfield confesses that she loves make-up from Pout too.
Jade Jagger, jewellery designer, rock child and girl about town is mad for Bloom cosmetics watermelon lipbalm and glisten lipglaze.
Liv Tyler is also a big bloom fan, and loves to stow away the Body Care Pamper Pack for when she's travelling.
Lola Cosmetics' fantastic 'Lip Menagerie' is loved by Lara Flynn Boyle as well as SJP!
Everyone from Britney Spears to (really) Owen Wilson rely on facialist Sonya Dakar. Her range of problem solving skin treatments are as lengendary as a facial from the lady herself. If you can't afford the trip to LA, buy the goodies on the website and pretend to be a celebrity!
Sandra Bullock wore Cacharel's 'Noa' fragrance when filming 'Miss Congeniality'. When the cameras stopped rolling, she kept wearing the scent.
Cargo cosmetics co-created a lipstick with Courtney Cox (the shade is 'Cece', her nickname). It matches the shade of her couch at home! Debra Messing also created a lipstick with Cargo, hers is an orange-brown called Fez!
Most people know that Cameron Diaz is a Stila Cosmetics addict. Their best-selling lip glazes were created especially for her to wear in the first Charlie's Angels movie. And the good news is they've now been re-packaged in bigger tubes!
Did you know when she's not using Lola's lip menagerie, Sarah Jessica Parker wears the same lipgloss as Catherine Zeta Jones? Both ladies love Crystal gloss from Elizabeth Arden. Catherine is, after all, their spokesmodel!
Italian hair company Terax have loads of celebrity fans. The cult 'Crema' conditioner counts a-listers like Madonna, Demi and Gwyneth as fans.