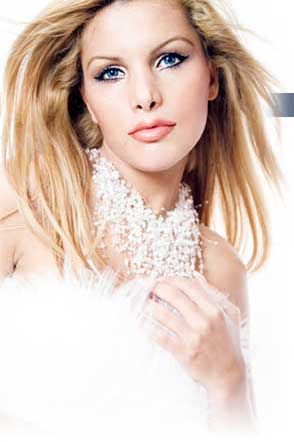 Stuck for a look for your formal or prom? Maybe I can help with these looks, from celeb looks to try-it-at-home updos.
Everyday Women's hairstyles

Hair Tips
Stuck for a look for your formal or prom? Maybe I can help with these looks, from celeb looks to try-it-at-home updos. page 1 | page 2 | page 3
CELEB LOOK: KYLIE MINOGUE

Suits: Long, medium / thick hair with a slight wave.
Try It: Spray the roots of your hair with a good volume boosting spray, and set hair on heated rollers. Use larger rollers on the crown for lift, rather than curl, and smaller ones through the length for sexy waves. Leave until cooled (try setting with a hair dryer with a cool shot). Remove and use fingers to style, pushing front layers back. Backcomb the top layers.

CELEB LOOK: KATE HUDSON

Suits: Any thickness, bobbed or longer.
Try It: Blow-dry hair to 80% dry, then spritz with a curl-boosting spray and roll onto large velcro rollers for a gentle wave. Use a hairdryer set the curls and leave hair to cool before removing the rollers. Pull the hair back very loosely, allowing waves to frame the face, and coil in a bun at the nape of the neck, pinning in place. This will also work on shorter hair, which won't need to be rolled into a bun, just pinned under.

CELEB LOOK: GABRIELLE UNION

Suits: Long relaxed afro or thick hair.
Try It: There's a new hair tool that's perfect for acheiving sexy waves like Gabrielle's. The 3-barrel wave tong is used almost like a crimping iron, pressing it down on the hair, working down the lengths to create a loose wave. On thick or relaxed afro hair, you'll need time to get it right, but to get this look, leave the first few inches straight, and tong large sections at a time.

CELEB LOOK: JENNIFER LOPEZ

Suits: Long, medium to thick or afro hair.
Try It: Part hair on the side and sweep back into a ponytail at the nape of the neck. Split the hair into around 6 sections, and set each one on a velcro roller, spraying with strong-hold hairspray. Remove the rollers gently, and following the curl, coil the section to the head. Pin the coil to the head and spray. Repeat with each section to create a chignon effect.

CELEB LOOK: CATHERINE ZETA JONES

Suits: Mid to long medium / thick hair.
Try It: Spritz hair with root-lift spray before blow-drying with your head upside down for volume. Part the hair in three sections at the front. Sweep each side section back and twist together in a pleat, pinning as you go. Fold the ends under as much as possible. Take the front centre section back, pushing forward slightly for lots of lift. Use this section of hair to hide the loose ends, pinning it over the join.

CELEB LOOK: MANDY MOORE

Suits: Short, Layered hair.
Try It: It can be hard to know what to do with short funky hair for formal occassions. So don't try anything too fussy. Mandy Moore parts her hair low on the side and uses some smoothing cream rather than her usual texturising products for a more chic look for red-carpet moments. This is perfect if you have a similar layered cut, even if it's a bit longer / shorter than Mandy's is here.