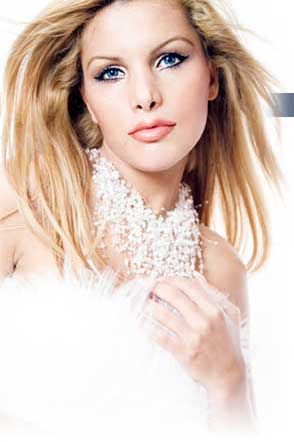 Everyday Women's hairstyles

Stuck for a look for your formal or prom? Maybe I can help with these looks, from celeb looks to try-it-at-home updos.
Long Hairstyles
GREAT LENGTHS

How many times have you said; "what am I going to do with my long hairstyle?"

Women, on average, spend 45 minutes everyday looking after their hairstyle.
Shampooing
Conditioning
Certainly styling
Wearing it up
Wearing it down
Coloring

Long hairstyles should have lots of natural texture, flirtatious flips and long loose layers whether your hairstyle is straight, wavy or curly.

A versatile cut that is layered all around can be achieved by using simple techniques. Razoring and slicing can be used around the perimeter of long hairstyles to give definition.

A one-length solid cut is also popular with a long hairstyle, as it's easy to put up or to be sleeked back into a ponytail that's practical.

By using a parting, you can totally change the look of long hairstyles. Wear it in the middle, side or at an angle and you would be surprised at how much your appearance can change. These days partings are becoming a fashion accessory.

Apply styling products and blow-dry hair with a large round brush or paddle brush to accentuate layers around the face. Try using a flat-iron to achieve that smooth texture.

If you have a long hairstyle, it's best to take care of it or don't have it at all.

Long hairstyles take a while to grow, so if you haven't got the patience and time, try extensions.


Long Hairstyles: Elegant Round Curls
Long length, slightly layered all over giving the hair definition to the curls. A short fringe can give hair a different appearance to the face.

Style Tip: apply styling mousse to damp hair then blow-dry hair using a diffuser or let the hair dry naturally.
When hair is completely dry, apply moulding cream or gel spray to enhance the curl.

Long Hairstyles: Traditionally Layered Hairstyle
Long, straight slightly layered. Textured and chipped on the ends with face framing layers and a fringe swept to one side.

Style Tip: apply mousse or moulding cream to wet hair then blow-dry using a paddle brush or a large round brush. To achieve a smooth result try using a flat iron.

Long Hairstyles: Long Soft Layers
A very elegant and sophisticated style with layering around the perimeter of the hair to give definition to just the right features.

Style Tip: apply styling mousse to slightly damp hair then, using a large vent brush or a paddle brush, blow-dry the hair with the nozzle pointing downwards. Smoothing shine will give this style a perfect finish.

Long Hairstyles: Sexy Texture
The layers start from the chin down, giving this hairstyle a lot of fullness, texture and movement.

Style Tip: apply styling mousse to semi-dry hair then blow-dry using a large round vent brush or paddle brush. Make sure to blow-dry the sides inwards to frame the face and apply lacquer for hold.

Angela Fiorenza
THS Hair Consultant